Dr Ricky Patel's tech savvy
Owning his own dental practice—and one equipped with the latest gadgets and gizmos at that—is a dream come true for Dr Ricky Patel.

  5 minutes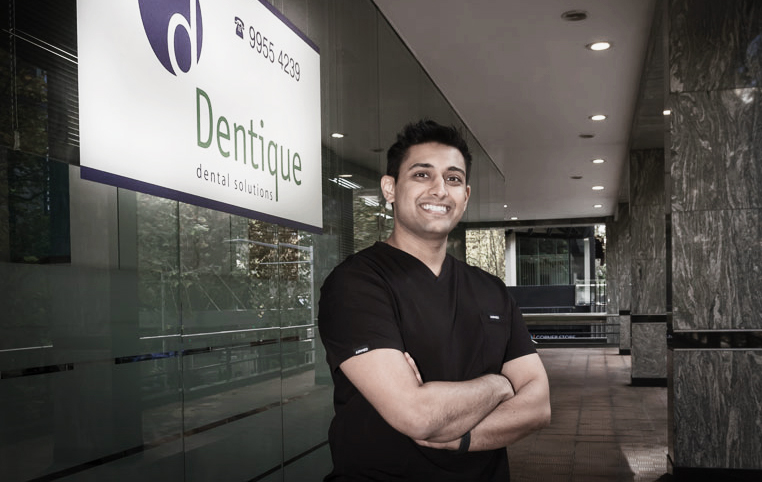 There are pros and cons when you're taking over an existing practice and making it your own. If you're lucky, like Dr Ricky Patel, you find somewhere with great staff and loyal patients, but with scope to expand without disturbing anyone. The downside, in his case, was all the practice systems were paper based. "There was a single computer used for making appointments and emails and an X-ray developer to process film OPG and intra oral radiographs," he says.
Still, Dr Patel is a 'hands-on' kind of person, and he was up for the challenge of moving the practice into the 21st century. "Growing up I loved science, computers, and building things," he says. "I like to work with my hands. I'm a bit of a tech head and love my gadgets. I'm fascinated by how new technology is being utilised to help us in everyday life, and in particular how I can use these new innovations to provide the highest level of comfort and care for my patients."
In fact, he's so 'hands-on' he took time out from repairing and renovating some of the cabinetry at his practice to do this interview. And there was no chance a few old machines or dodgy cabinets were going to dampen his desire to own his own place.
"Even in dental school, there was always a plan to be a practice owner," he says. "In the last few years, a lot of health funds and corporates have grown and taken over practices, and it has changed the landscape of ownership, especially in metro areas. That did make me waiver as to the direction I was going to go. I think after seeing how corporates are, and seeing what dental innovations are emerging, I knew this was the right time to take this step and challenge myself."
Dr Patel was born in the USA but grew up on Sydney's lower North Shore. He was always attracted to dentistry as a profession, even when he was in high school. "I was fortunate to meet my dental mentors when I was still a school student, who showed me their cases of how they transformed people's smiles. It was fascinating that those minor changes could make such an impact on a person."
The lifestyle appealed to him as well—he liked the idea of being in control of your own destiny, your own work hours, and that he could have a meaningful impact on people's lives. He ended up going to dental school in Melbourne before returning to his hometown, where, in 2011, he started working with Dr Hugh Fleming at his practice in Mosman.
Dr Fleming has long been an advocate of the benefits of innovative technology in practice, and Dr Patel found in him an incredible mentor. "Working there, I got an understanding of what a successful private practice is all about. Through university, you never really understood how to merge the clinical aspects of treatment with the personal nature of what you are doing. You just know the theory, the fundamentals, but there's a whole world in private practice of engaging with patients, meeting their needs, understanding what they want, and working with them to achieve good health goals."
Looking to buy
Dr Patel took up an opportunity to work at a practice in Port Macquarie with Dr Peter Elfar. "It was a practice similar to Dr Fleming's, who was also constantly innovating and implementing the latest technology to provide patients with the best care possible. It was motivating me to constantly upskill and learn new treatments and techniques to help my patients achieve better oral health," he says. "It was through using these systems and technology such as CBCT, CEREC machines and digital scanners on a daily basis that cemented my belief in their effectiveness in providing such great care, and how these clinicians would constantly invest in new technology that dramatically improved the speed and efficiency of dental treatment."
When he was ready, he started the search for his own place in earnest. "Starting the practice search was quite a big task, especially as I didn't have a strong foundation in the detailed financial side of practice management," he says. "I had attended a BOQ Specialist practice start-up seminar a couple of years back, which gave structure and groundwork for what to look for in a practice and what to look for in growth."
He also met BOQ Specialist's Luke Truscott at the seminar and reached out to him once he started viewing practices for sale. "Luke really helped guide me to understand what I was looking for when I was searching for a practice," he says. "I could reach out to him any time. He would give examples of past cases that he's dealt with or similar circumstances to mine, providing his perspective and experience which was invaluable."
There were several practices that he looked at that were either "overvalued or had a high patient and staff turnover. There were also other little anomalies that would make it a bit questionable—either rent was a too high and hamper my ability to renovate, or the owner was selling to work at another practice which would reduce the goodwill."
Then he came across a practice in North Sydney, close to where he had grown up.
"I gave them a call and talked about what the intentions of the owner were," he says. "He was looking to phase out of ownership and wanted to focus more on his patients. He had a three-chair practice in a really good location, and was looking to find someone younger to inject a bit of energy and refresh the practice. The quality of his treatment, and his connection with his patients and staff were all similar to my own philosophy. And having someone who was very particular with who he wanted to take over the practice meant that he valued his patients and wanted the clinic to have continued growth and success."
Ownership at last 
With a dental loan from BOQ Specialist, he bought the practice, the goodwill, and the existing equipment. "Following that, I made a few big purchases right off the bat, knowing that I need this kind of technology—a CBCT; a CEREC machine; and 3D printers, to provide comprehensive diagnosis and rapid definitive treatment. From implant planning, smile designs, and clear aligners, the focus became providing patients with comfortable, easy, convenient dental treatment."
One of the existing strengths of the practice that Dr Patel is grateful for is the staff. "They are a really strong team that have developed a great working culture that focuses on the patients. There is this community-like feel within the practice where patients have been attending for over 20 years and know the team personally."
The practice footprint allows for future expansion, and Dr Patel is looking at possibly adding an extra chair in the next few years as well as expanding the number of available treatment options.
"Especially during the COVID outbreak, it has been quite a stressful time with lawyers, finance, and landlord contracts," he says.
"Like with any renovation, there have been constant changes and unforeseen setbacks, and BOQ Specialist has been really supportive and accommodated every issue that we've had come up. Yes, it has been stressful but it is not something that I regret and I look forward to an exciting future as a practice owner." 
Thinking about starting or growing your dental practice? BOQ Specialist provides tailored dental finance solutions for setting up a practice.
Ready to take the next step? Contact us to find out how we can tailor a practice finance solution for you, or call us on 1300 160 160. 
Subscribe to Best Practice
Our bi-annual magazine which features case studies from our clients and gives you first hand examples of how we can help you to grow your business.