Dr Sarah Varma on where smiles reign
As a clinician who leaves nothing to chance, when seeking to finance her own dental surgery, she wanted similarly-minded professionals on her team.

  7.5 minutes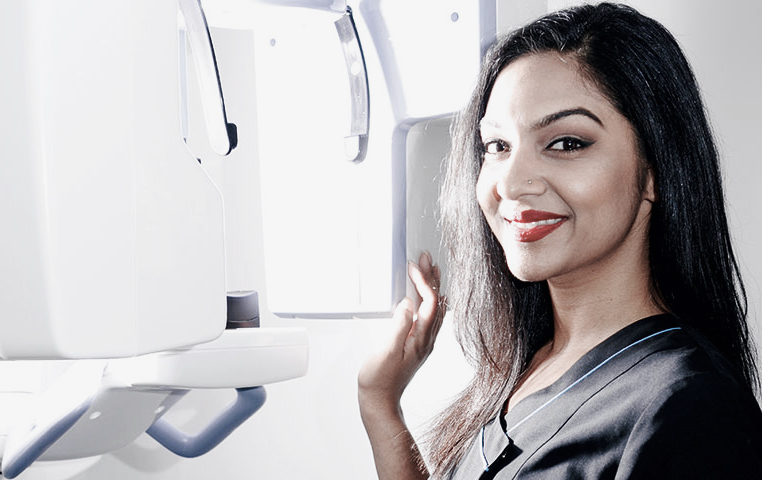 Background
Unconditional support and uncompromising loyalty from her family has helped Sarah Varma get where she is today. But so too has the trusty Audi A4 her then 25 year old brother bought for her a decade ago—the result of a bet she wouldn't get the grades needed to pass the Undergraduate Medicine and Health Sciences Administration Test (UMAT) while still in high school.
"My brother told me I should sit the UMAT in year 12, which I thought was a waste of $100 at the time," she says. "He proceeded to use reverse psychology on me saying I was probably not smart enough to get in. I told him to put his money where his mouth was, so he bet me a car. Half way through year 12, I upped my grades and before I knew it I found myself in dental school."
It seems tenacity has always been the drive behind the Varma family. Dr Varma's father moved to Australia as a teenager, fell in love with her mum and brought her to Australia.
"My mother was and still is the strongest woman I know [while] my father, who is by far my biggest fan, always said 'there's no such thing as can't—you can do anything you put your mind to'. I have lived by this and this is how I trusted myself to open a practice on my own."
It is a philosophy that has held her in good stead. Dr Varma is now the sole dentist at her surgery that specialises in cosmetic and dental treatments. "We use an array of treatments to help our patients achieve optimal aesthetic results. We are consistently implementing quality treatments using quality materials to help our patients smile with confidence," she says.
Learning curve
Dr Varma graduated from the University of Western Australia with a Bachelor of Dental Sciences in 2007. She spent more than eight years perfecting her craft at a range of boutique clinics across Western Australia including McNeils Dental in South Perth, St Georges Terrace Dental Centre, and finally under the tutelage of Dr Alan Lim at QV1 Dental. It wasn't until late 2014 that she contemplated branching out on her own.
"I had learnt and grown so much in my time working for Dr Alan Lim. But I wanted to follow my passion and start my own unique boutique practice."
Having cemented her vision, Dr Varma then set about scouting possible locations. Eager to find a site that had great visibility, and keen to align her start-up practice within an existing medical centre, she spent months looking before finding a site in Perth's West Leederville.
"I fell in love with this place as soon as I saw it," she says of her rooms. "With an array of some of the best medical and dental specialists in the country within the medical centre, and more on our street, along with St John of God Hospital opposite us, and a brand new, shiny building, I found everything I could possibly want in this location."
In keeping with the same approach she has often relied upon in her career to date, Dr Varma used her family's WhatsApp group to throw around names for the practice. The family considered more than 100 before she settled on The Smile Clinique. The name was, she says, a unanimous decision.
"It was everything I wanted it to be," she says. "It didn't have 'scary dentist' connotations associated with it, the spelling was a little left of centre, and it represented my ultimate goal—to have every patient leave with a smile on their face."
The BOQ Specialist difference
Having secured her location, Dr Varma then approached Medifit, a medical outfitting company, to assist her with the design, while at the same time being referred to BOQ Specialist for help with funding.
"They were efficient, kind, and walked me through every stage of the process, being very patient with me as I delved into areas of business I had no previous experience with." Her practice, she says, is representative of the treatment and service she provides with a modern, comfortable feel and a welcoming ambience combining comfort, aesthetics and technology. The practice has state of the art technology including european dental chair, flat screen TV's with netflix and Beats headphones.
When people ask her about the inspiration for the design, she compares it to her private residence. "I wanted to create an environment that was a reflection of my own taste, and a place where patients could actually enjoy sitting in the waiting room. It feels like home for me and I hope that my patients feel just as comfortable."
Watching it grow
With a genuine focus on offering the best in customer service, Dr Varma says her close knit team of three work hard at ensuring their patients are relaxed prior to any consultations, incorporating calming aromatherapy and cooling eye masks into The Smile Clinique's offering.
Dr Varma says she feels an incredible sense of achievement every day she walks through her clinic doors. "It has been the most intense character-building experience of my life so far and continues to teach me so much about myself," she says. "[I love] knowing that it's my baby to nurture and grow."
Subscribe to Best Practice
Our bi-annual magazine which features case studies from our clients and gives you first hand examples of how we can help you to grow your business.