An expanding dermatology practice
Dr Bryan Pang has made a career out of making people feel better about themselves.

  7 minutes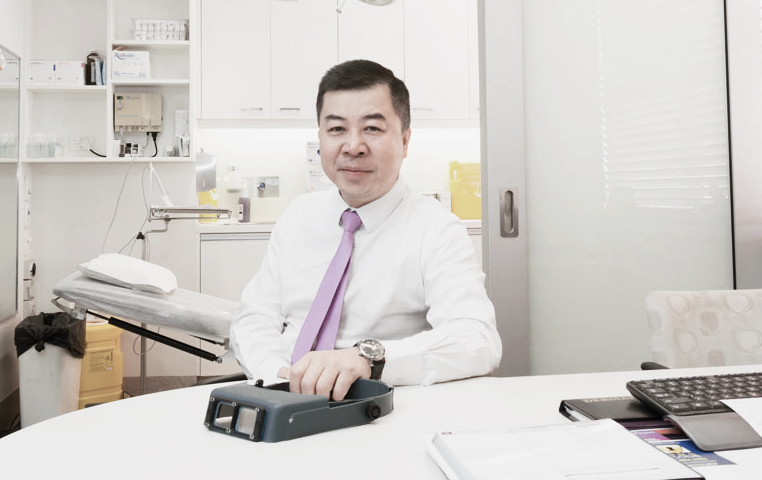 Dr Bryan Pang prides himself on his ability to keep a promise. It took the world-renowned dermatologist less than a decade to make good on his assurances to his eczema-stricken older brother that he would one day create a warm and personalised treatment space for people whose lives were being impacted by irritating skin conditions.
"Every time I went to see the doctor with my brother, I felt it was an unnecessarily sterile environment. [In my own practice] I wanted to create an environment with good facilities, modern equipment and great staff that would enjoy engaging with patients," he says.
Today his group of practices has in excess of 100,000 patients drawn by this more bespoke approach.
Dr Pang again proved a man of his word when he informed BOQ Specialist financial consultant Mercedes Torres that he would deal with her—and her only—when it came to sourcing finance for the expansion of his burgeoning medical group.
Seduced by skin
The pair are currently working on their next deal together, the details of which he'd prefer to keep under wraps. However, their relationship has so far endured through the establishment of three unique clinics and five separate businesses.
Dr Pang opened his first practice in Miranda, in Southern Sydney in 1997. A full-service dermatology clinic, Sutherland Shire Dermatology is also home to Cosmedica, the group's specialist cosmetic centre.
In 1998 Dr Pang opened a second site in Sydney's Macquarie Street. Occupying an entire floor, the service is divided into treatment rooms and consultation space from where patients are offered a full range of medical, surgical and cosmetic treatments. In 2010 the group opened its first Day Surgery at the same site.
A third location, Chatswood, was opened in 2009 and offers a broad range of dermatology treatments, specialising primarily in skin cancers and medical dermatology.
The founder and medical director behind the Sydney Dermatology Group, Dr Pang is considered one of the foremost specialists in his field, specialising in medical, surgical and cosmetic dermatology. Dr Pang's wife Betty is a chartered accountant, and helps with the running of the business side.
Discovering dermatology
Dr Pang, a keen traveller who is fluent in Cantonese, English and Mandarin, was midway through his Bachelor of Medicine and Surgery degree at the University of NSW when he began conducting immunology research at Sydney's St Vincent's Hospital.
A spell at the then National Naval Medical Centre in Maryland in the United States followed before Dr Pang returned home to commence his internship.
After shoring up his credentials working as an intern and medical officer at Prince of Wales and Prince Henry Hospitals, just three years after graduating Dr Pang was awarded a scholarship to the National Skin Centre of Singapore.
It was while there as a visiting fellow that he won the award for best scientific paper at the 8th Annual Scientific Meeting of the Dermatological Society of Singapore.
"I found dermatology an interesting field with multiple facets and forever advancing science," Dr Pang says. "It is a specialty that requires good medical, surgical knowledge but also visual observation judgement combined with clinical skills. It is also the only specialty that combines medical, surgery and aesthetics (lasers/injectables) under one umbrella."
Together with his support staff of around 40 managers, receptionists and nurses and 10 dermatologists, Dr Pang's clinics offer a range of services including skin cancer treatments, wrinkle reduction treatments, acne scar management, facial capillary and pigmentation as well as laser and Intense Pulsed Light (IPL) treatments.
A unique approach
In addition to running his busy private practices, Dr Pang is also a visiting dermatologist to St Vincent's Hospital, and until recently was a board member of the Skin & Cancer Foundation Australia. He is also a fellow of The Australasian College of Dermatologists, a member of the American Academy of Dermatology and the American Society for Dermatologic Surgery and a laser trainer and educator for Sciton, Palo Alto.
His work has been extensively published in both local and international medical journals, and he is also a regular presenter at both domestic and international medical seminars.
With a focus on providing what he terms "the safest, most effective and minimally invasive procedures" to his clients, Dr Pang has invested heavily in state-of-the-art technology to ensure patients receive superior results.
He also believes his unique approach to service will continue to hold him in good stead into the future.
"Really I think it comes down to two things; you have to be flexible. I will accept and treat patients on an urgent basis if it is required but other practices will not do this. The second thing is you have to offer a personalised approach. You have to try and understand your patients' problems and tailor the treatment to each individual patient. You need to treat every patient as if they are your friend."
Thinking about expanding your practice? Click on the link to find out more about our tailored financial solutions for starting or growing your practice. Ready to take the next step? Contact us to find out how we can tailor a practice finance solution for you, or call us on 1300 160 160.
Subscribe to Best Practice
Our bi-annual magazine which features case studies from our clients and gives you first hand examples of how we can help you to grow your business.