For Dr Richard Wood, expanding his practice meant evaluating his priorities
The technology and patient experience was of equal priority when Dr Richard Wood expanded his practice—and the results were worth it.

  4 minutes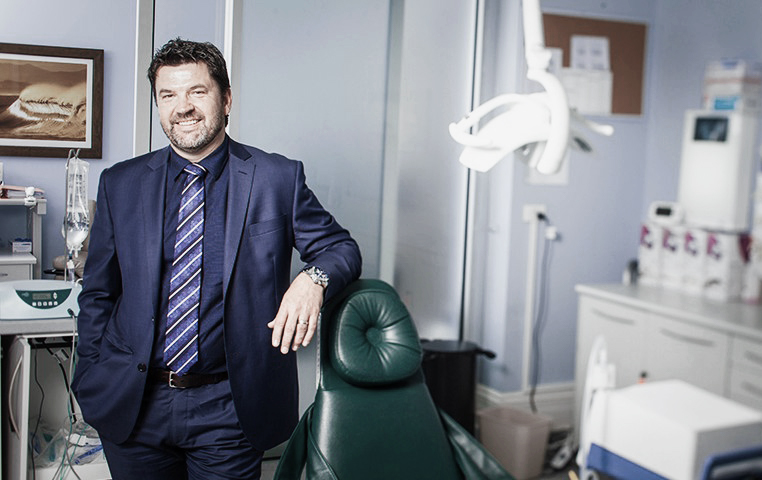 For this Geelong-based oral and maxillofacial surgeon, planning for the future growth of his practice, Surf Coast OMS, just made sense. Dr Richard Wood often looks at the latest technology available, his patient profiles as well as trends within the broader healthcare industry, and makes decisions accordingly.
"Recently, I underwent a process of digitising the patient treatment experience in the practice, researching current technology and its application to our specialty work," he explains. "This resulted in the purchase of a cone-beam scanner for implant and corrective jaw or surgical procedures. Once we bought it, we needed to make room for it, so we expanded into some of our vacant rooms which included a new fit-out.
"Initially, I had thought I would try and negotiate a drawn-out part payment plan with the cone-beam company. But with all the other rooms' fit-out costs, the LED lined walls, the partitions, our new dental chair, light, and cabinetry, I eventually had to say, 'We need some outside funding to make it all happen.'"
That's where BOQ Specialist came in.
In for a penny…
With the cost of expanding the practice, the security of owning the rooms became paramount. "I approached the owner of our premises and pushed for a sale, which was an interesting process as the owners had always advised that they wanted to keep the premises as part of their portfolio," he says. With a bit of luck and good negotiating skills, Dr Wood was able to strike a deal.
"I think most people who work in healthcare feel they are looked upon by the larger banks as being self-employed," he says.
"Medical practitioners do have variable income because they're essentially running a small business which means it can be hard to get finance from larger banks. It's refreshing to have a bank like BOQ Specialist who understands our industry." After agreement from the previous owners, Dr Wood purchased the premises, securing the fit-out investment he had made in his practice.
The final issue to plan for surrounded his patients. Dr Wood was aware, as are many in his specialty, of the precariousness of private health insurance.
"Sometimes, patients have been advised by their insurance provider that they would be covered for future procedures," he explains. "And then they come in for their treatment, and the advice changes."
Those patients move onto long public waiting lists or need to source their own finance. Dr Wood then heard BOQ Specialist had teamed up with MiFund, a patient-finance provider who combats this very problem. Trevor Knowles, Dr Wood's financial specialist at BOQ Specialist, put him in touch and the rest is history.
"I had initial meetings with MiFund," says Dr Wood. "They came in and educated my staff on the paperwork and the particulars of the process for patients. I didn't seem to hear any more about it as the practitioner. It happens seamlessly in the background."
Thinking about starting or growing your practice? Click on the link to find out more about our tailored financial solutions for setting up a practice. Or ready to take the next step? Contact us to find out how we can tailor a practice finance solution for you, or call us on 1300 160 160.
Subscribe to Best Practice
Our bi-annual magazine which features case studies from our clients and gives you first hand examples of how we can help you to grow your business.