How to buy an existing medical practice
We helped make the transition of buying an existing practice in Mackay a smooth one.

  6 minutes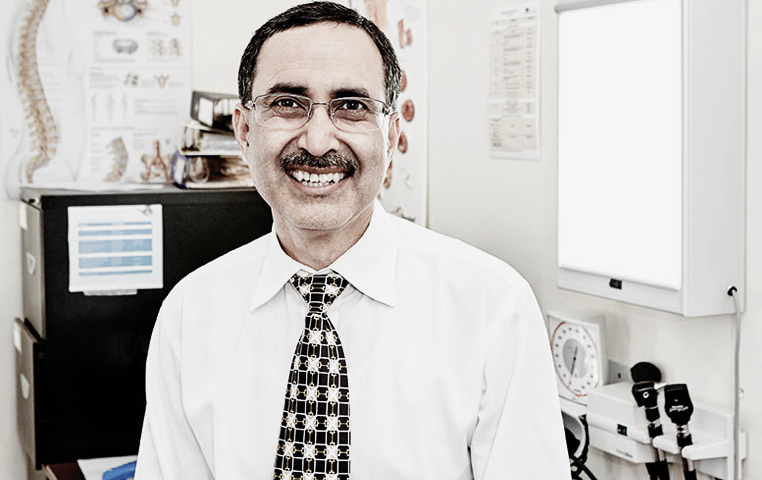 From a purely geographical standpoint, Dr Sushil Anand has come a long way. Educated in India before migrating to a practice in Hammondville, Sydney, by way of Tasmania, Dr Anand's journey from medical student to Mackay practice owner has led him not just around Australia, but around the ins and outs of starting, and taking over, GP practices.
"It was an accident," he says, by way of explanation. "I never had any intention of buying in Mackay [in Queensland]. But I was there for a holiday last year when I learnt the principal was planning to sell the practice."
While working through the administration, management and business development of running a practice is not what Dr Anand is most passionate about, it's something he says "kept nudging me, I couldn't ignore it".
Dr Anand was confident he could manage the practice remotely, and had a lot of ideas thanks to his varied experience. "I wanted to think creatively and create
a multidisciplinary centre with a lot of specialists."
Pros and cons of buying an existing practice

There are, of course, many pros and cons to buying an existing practice rather than starting a new one from scratch. For a start, there is a client base and income stream from day one which provides some predictability and an idea of what the finances look like, which makes things a lot easier to budget. The drawbacks? "Getting finance," says Dr Anand. "It requires a fair amount of capital to buy someone out." 
How BOQ Specialist helped
Enter BOQ Specialist, which streamlined the process, patiently managed a vacillating seller and ultimately had Dr Anand's new investment practice up and running in record time.
"BOQ Specialist went far beyond my expectations in many ways," says Dr Anand. "They didn't just help with the finance, they also gave me a lot of guidance based on their experience. For example, they put me in touch with a practice design firm, Innova, to help with the fit-out, advised us on the accounting software that best integrates with BOQ Specialist and were just very helpful."
Mostly, Dr Anand was impressed with how knowledgeable BOQ Specialist consultant Luke Truscott and his team are about every aspect of a family practice. "You don't have to explain your needs at all. They were very friendly, showed a lot of interest and are incredibly prompt in responding. Having a personal banker made the process much easier," says Dr Anand, who speaks from personal experience having dealt with other institutions with, what he describes as, "a lot of red tape and dragging feet for a small amount of finance".
The advantages of specialist knowledge
Minimum paperwork meant minimum hassle, which freed up more of Dr Anand's personal time. Perhaps most tellingly, Dr Anand managed to obtain quite a large amount of finance unsecured. "Most banks have no idea what's happening in the medical industry or understand our needs. BOQ Specialist even knew my solicitor—they're a good medium for networking. Great people with great product," he says.
While Dr Anand was busy securing finance and managing remotely from Sydney, Dr Gary Saini was on the ground in Mackay, in the practice where he'd worked for the past eight years. He was deeply involved in the process of this delicate transition period, as the practice changed hands from a friend who previously owned the business to Dr Anand taking over.
"I've been the managing director of the business, so it was my duty that everything went smoothly," Dr Saini explains. "I brought in Dr Anand, who wanted to bring in expertise to the practice."
Plans to expand
Both BOQ Specialist and Dr Saini ensured that everyone was across the changes to the practice. "We stayed in touch with everyone, as I felt it was my duty to handle everything. And it was no trouble whatsoever—we never had any complaints about bill lateness. I don't have the words to describe how helpful BOQ Specialist is. It's wonderful doing business with a bank like that."
Dr Anand's story doesn't end there. He plans to expand the practice and create a true multidisciplinary centre such as the one he has in Sydney. "The Mackay practice is going to be very modern. What we paid [to buy the practice], we are spending again on the fit-out, turning it into what looks like a five-star hotel," he enthuses. "It's been a fair bit of work, but you need to invest in the business. If the quality is there, you will do well."
Thinking about buying a practice? Click on the link to find out more about our tailored financial solutions for buying a practice. Ready to take the next step? Contact us to find out how we can tailor a practice finance solution for you, or call us on 1300 160 160.
Subscribe to Best Practice
Our bi-annual magazine which features case studies from our clients and gives you first hand examples of how we can help you to grow your business.