The Goodwin brothers approach to a successful growing medical practice
Their personalised family approach to healthcare has been so successful, they have more than doubled the size of their medical practice.

  3 minutes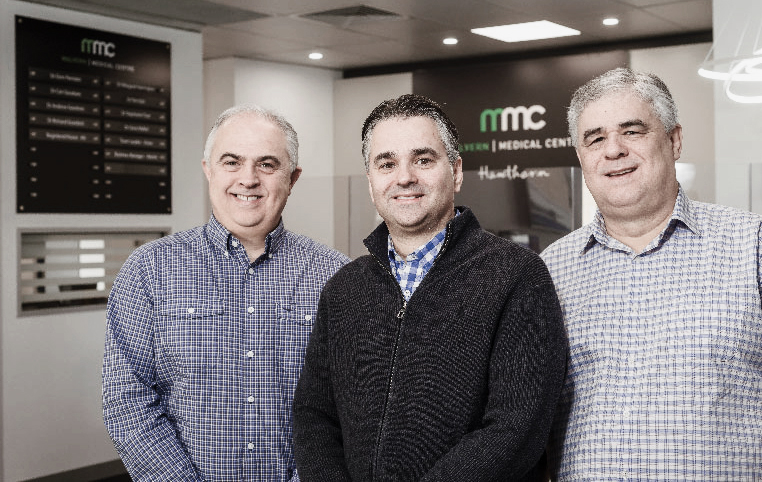 Based on the experience of the Goodwin brothers, the most important key to a successful, growing practice is having a central philosophy that drives culture.
"We spend time with people," youngest brother Richard explains. "We work through their problems and develop solid long-term relationships with them and their families. And our GPs have a sense of belonging to our own practice family and of contributing to the larger community. That's what we're about as a practice."
But for Richard and his two brothers, Drs Ceri and Andrew, that created a problem of space. From starting out in a small cottage in Hyde Park, their personal approach attracted an ever-increasing number of patients. This meant they kept adding more doctors, which again attracted more patients and in turn more GPs who wanted to join. And so, the cycle continued, resulting in the need for more space. What started, literally, as a cottage has become a practice over three sites, a kind of medical village that has expanded into a neighbouring suburb.
Family values
Despite the six-year age gap between each of them, the Goodwin brothers have always been close. "Now working together, and as brothers, we view the world very similarly; we get along really, really well," Richard says. As children of a noted academic—their father was a physics school professor and atmospheric science researcher—it was taken for granted they would go to university. "Ceri and Andrew had both decided to pursue a career in medicine then general practice, and early on they got their heads together and said, 'Let's go into business together'," says Richard.
"So they looked around for the right practice. About that time, there was a solo GP in the inner south of Adelaide who was going overseas and selling his practice. Ceri and Andrew heard on the grapevine that this was happening, so they approached him and ended up buying the practice from him.
"A few patients decided they wouldn't give us a go to start with, so there was a patient drop-off at the beginning. But we restructured the administration, worked 8am to 8pm seven days a week, improved the practice signage and marketing and built up the practice that way. Just as the hard yards were being done in the early years, I joined to help them out and we saw a period of rapid growth. Although we'd taken over the lease of the building we were working from, we decided to buy our own premises when the lease ran out."
Bigger and better
As the practice grew they quickly ran out of space. They started looking around the area and their father spotted a larger building on the main road at Unley that was underutilised and attached to a run-down antique shop. Their father helped his sons buy and renovate the building. "He was an amazing man, my dad," says Richard. "He's the sort of man who would do anything for his kids. He helped us change the degraded building around into what was in 2000, a state-of-the-art medical centre."
The practice continued to grow—it wasn't long until all the rooms in the new building became full. "We thought, 'Well, what do we do now?' And about that time, the antique shop owners said, 'We're not planning to renew our lease'. So we opened up the wall between our practice and the antique shop and joined the two spaces, adding more consulting rooms to the practice. And within about six months they were all full again with GPs and psychologists. Then we thought, 'Right, what do we do now?' There was talk at that stage of, 'Do we move? Do we try and look for a bigger building?'"
Then a cottage behind the carpark of that building came onto the market - it was the perfect solution. The brothers received a federal government primary care infrastructure grant to help fit out the new building as an allied health suite, offering psychology, dietetics and podiatry as well as a pathology collection centre.
They went with allied health tenants, rather than extra GPs, to offer a more comprehensive service to patients. "On the surface you may get a greater financial return from having GPs in your rooms rather than allied health professionals," says Richard. "But you provide an invaluable service for your clientele by diversifying your offering to include allied services. You become more of a one-stop shop and people like that. People prefer seeing a team—and having a core team of allied health professionals working alongside your doctors has been important for us."
Second site
A few years ago they merged with other GPs in a practice nearby, and the space issue reared up again.
"Ceri knew the practice doctors over many years at the clinic we merged with. He went through med school with one of their key GPs." says Richard. "The GPs there shared the same personal approach ethos that we do. So, it was a no-brainer for them to join up with us. It's been a win-win for everyone."
In looking for more space to accommodate the new GPs they spotted another building—an old radiology clinic located in a great position to service patients from the clinic they merged with. This building still required a significant renovation and fit-out. They approached BOQ Specialist for finance after having some underwhelming experiences with other banks, "and they really have been extremely easy to deal with," says Richard. "They've bent over backwards to help us. They're accommodating and responsive. Darren Tomlinson is an exceptional guy and a really professional operator. He made it easy for us because he understood our needs."
Now the brothers are splitting their time between the two clinics. "I'm doing half of my sessions at our flagship rooms in Unley and half in the new rooms in Hawthorn," says Richard. "Ceri is doing three days at Unley and one day up at Hawthorn and Andrew's doing half and half as well. We've now signed on some more doctors who share our same ethos of caring for the whole person and who want to belong to a likeminded team. Fortunately, we now have plenty of space at the new Hawthorn rooms for them to slot into."
And as they opened the doors on their shiny new medical centre in Hawthorn recently, they looked back at those rooms in Unley and thought, 'That needs a bit of a spruce up'. So now they have kicked off an internal fit-out and renovation at the original Unley branch.
"So, we're going to have two great centres once all that's done, with the help of BOQ Specialist," Richard says. "And then it's our job to fill the rooms up again—which shouldn't be too hard if the past is any guide."
 
Thinking about starting or growing your practice? Click on the link to find out more about our tailored financial solutions for setting up a practice. Or ready to take the next step? Contact us to find out how we can tailor a practice finance solution for you, or call us on 1300 160 160.
Subscribe to Best Practice
Our bi-annual magazine which features case studies from our clients and gives you first hand examples of how we can help you to grow your business.