Ian Goodchild's piece of the pie
When an investment opportunity too good to resist came his way, Ian Goodchild was thrilled to get the financial help he needed.

  4 minutes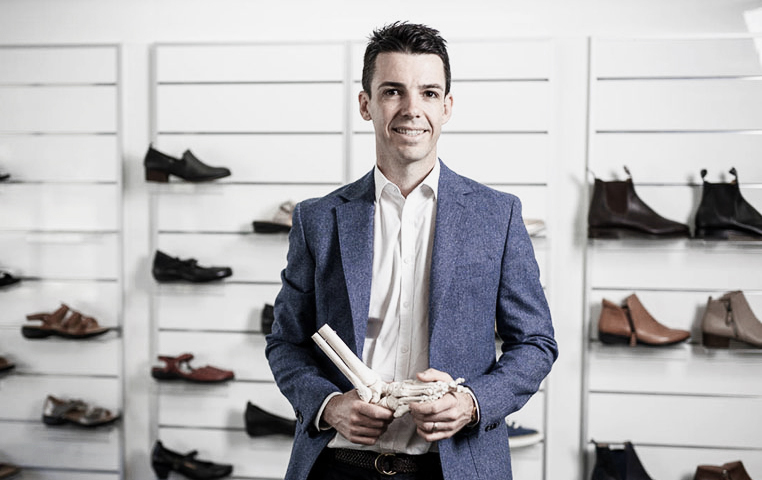 One of the great joys of owning either part or all of a practice is a sense of control over your own destiny. That's not an easy thing to achieve if your clinic is part of a corporate group of 136 clinics with hundreds of staff around the country. But for podiatrist Ian Goodchild, the opportunity to have a share in the success of the My FootDr clinic in Camp Hill, Brisbane, was too good to pass up. He just needed to find the best way to pay for it.
"My FootDr was largely owned by two people since it started back in 2004," he explains. A couple of years ago, the group merged with another large podiatry business. It later merged with Allsports Physiotherapy and publicly listed as Healthia Limited, a diversified allied health business which also owns hand therapy clinics, laboratories and medical suppliers.
"Shortly before and after listing, there had been a whole lot of acquisitions and people wanting to come into that group," Mr Goodchild says. "I had the opportunity to buy in at the Camp Hill location and I took it. It was a pretty easy decision for me given that it's a great place to work. They sometimes allow key staff to buy in as part of a partnering model—to keep their people engaged and provide diversity in career pathways for their practitioners."
My FootDr's Camp Hill clinic is one of the country's largest podiatry clinics—a modern, purpose-built centre with an onsite footwear retail outlet, medical specialists, massage therapy, a pedorthic facility, and an orthotic and prosthetic (O&P) fabrication lab.
Mr Goodchild had been working with the group for well over a decade, although technically speaking, it grew around him. "I graduated from QUT in Brisbane, in 2004," he explains. "I started working at a small podiatry clinic in Fortitude Valley. About 12 months after that, My FootDr purchased that clinic, so I started working for them. That was their first acquisition. Over the following years they built up their business to having about 25 locations."
That was before the merger that created Healthia. "Camp Hill was really their first location and that was the head office for some time. It's a flagship of the podiatry business and I've had a varied workload because of the wider scope offered at this large clinic. So we're making a big difference to our patient's lives with custom-made footwear and complex ankle bracing. It's a dynamic work environment and sets us apart from any other podiatry business in the country.  
A stake in the business
Last year, when the new entity Healthia Limited listed on the ASX, it underwent a rapid period of growth. Central to the company's vision was creating a group that was led and managed by practitioners—so it made sense to give some of those practitioners the ability to share in the success of the clinics they worked in.
"It suits Healthia's model to align with the interests of key staff," says Mr Goodchild. "So I have shares in that location, but I'm not a director—Healthia will maintain at least 52 per cent ownership of the location."
The trick for Mr Goodchild was financing his purchase. He had dealt with other banks at various times in the past for personal loans, and knew that there would be a process involved—there'd be a lot of paperwork and he would have to create a business plan.
BOQ Specialist's association with Healthia Limited made them an obvious choice for him. "BOQ Specialist know the business, they know what the program is and they're happy to support it," he explains. "So if you say to them, 'I want to buy into this location', they gather all the information they need and facilitate the signing, which makes the process really easy. In a couple of meetings, we got everything organised and they sorted out the rest."
"Ian was introduced to us through our relationship with Healthia, who is the group that manages the My FootDr practices," BOQ Specialist's Emily Pinker explains. "He was looking at buying into the My FootDr practice, but it was quite a large transaction, so my colleague Jacqueline Villalobos managed the commercial side and I helped bring over his residential home loan to add security. I also managed to get him really competitive rates.
"We were able to structure the facility to better suit his particular needs. It's about taking the time to understand your clients' needs and working with them to achieve the best outcome."
The ease and seamlessness of the whole process impressed him. "I think from a small business standpoint, they're really, really good," he says. "It's a very personable and simple process—they understand the business and they know what they're doing". 
Thinking about starting or growing your practice? Click on the link to find out more about our tailored financial solutions for setting up a practice. Or ready to take the next step? Contact us to find out how we can tailor a practice finance solution for you, or call us on 1300 160 160.
Subscribe to Best Practice
Our bi-annual magazine which features case studies from our clients and gives you first hand examples of how we can help you to grow your business.