Creating a practice where animals can feel at ease
Dr Nicole Laurence didn't want to treat scared and stressed animals. So she created a practice that makes them feel relaxed, safe and happy.

  9 minutes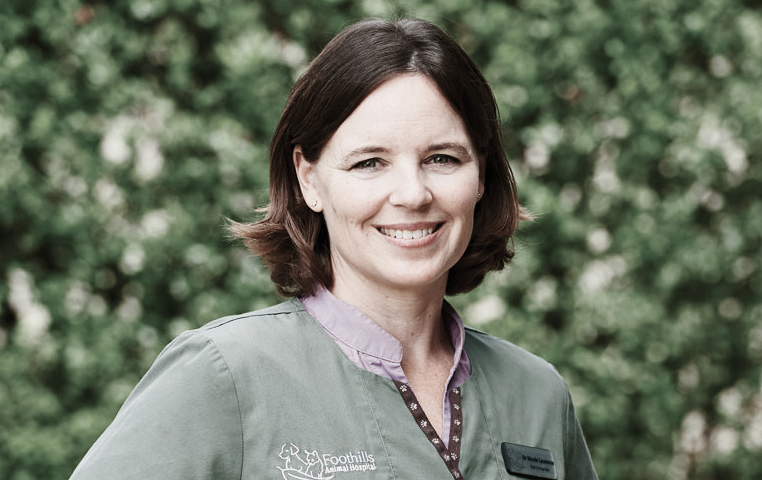 A dog on the back of a farmer's ute near Albany in the south of Western Australia played a surprisingly pivotal role in the career of vet Dr Nicole Laurence. Albany was her first posting after graduating from vet school in Perth in 1997 and she spent nine years there.
Dr Laurence says on this particular day, the farmer told her that every time he drove past the vet hospital the dog would cower in fear, worried the car would stop there.
"I felt wounded," Dr Laurence says. "We dedicate our lives to animals yet they are still fearful when they visit the vet. I want to change that."
She says her work at each practice afterwards reinforced the idea that despite how well vet staff cared for the animals, they were still frightened.
From here, the vision she pursued with passion was to create a practice that wouldn't make animals scared and deliver care in a way that was as stress-free as possible for small animals.
At home in the Foothills
Dr Laurence had a vision of 'fear-free' treatment long before it became a buzz-word in vet circles. She recognised that achieving this brave new model of veterinary care would require new initiatives to the way a practice was run. Realistically, this could only be achieved in her own business and not as an employee in someone else's.
When vet colleague Nathan Mannix said he'd seen an old house on a corner site in residential Armadale he thought would make a good vet hospital, together with the Mannix family, Dr Laurence and her husband Mike, seized the opportunity to become partners.
Dr Laurence says the Perth foothills was booming with more than 50 000 new homes planned at the time. The rapid growth continues today with the population in Armadale expected to reach nearly 92 000 this year and 141 000 by 2036. As a suburb on the country fringe, many people keep animals. Today Armadale has the highest rate of dog ownership in Perth.
"I said to Mike, surely we can create something small. We weren't in it for the money—we just wanted to be able to pay the bills and have the freedom to do it our way; to make it staff friendly and family friendly because I had two young children by this time," Dr Laurence explains.
The dream application
Dr Laurence's husband Mike is Dr Michael Laurence, a senior lecturer in production animal health and welfare at Murdoch University in Perth. It's through his work at the university he first met BOQ Specialist's Richard Curia, who would regularly visit to meet new graduates.
"Mike rang Richard to have a cup of coffee with him and talk about finances," Dr Laurence recalls.
"Before the meeting, Mike and I were looking at the loan process with some trepidation; busily preparing proposals and documents. We were worried about all the potential hurdles and whether we could manage the loan.
"Richard reassured us that BOQ Specialist were specialists in this area and that they could give us support and guide us on what products were best and the way to set them up. They could do this because they had done it so many times before."
What would a dog want?
The practice was modelled loosely on a modern paediatric dental surgery because they too are designed for maximum patient relaxation and to make the dentist visit a positive experience for kids. It's that experience children take with them through their lives to adulthood.
"We wanted to design a hospital similar to that and make the medical care that vets deliver easier for the animals," Dr Laurence explains. "This was six years ago. There's a strong fear-free ethos now in the vet industry but this was before that became a popular practice structure.
"I just thought to myself 'what would a dog want?' And the key is two outdoor consulting gardens, one with a water feature, so dogs can wait outside.
"Usually, the animals have to come into a waiting room where there are other dogs or cats and before the vet even sees them their anxiety level has gone up. If they wait outside in the garden, they are calmer and it's amazing to see it in their eyes how much more relaxed they are. I had been working with small animals for 15 years, examining dogs on the back of utes and in gardens. Now we were designing something more marketable and offering a special service for rescue dogs or dogs that had a bad experience at the vets before."
Rapid growth
Attention to detail at Foothills Animal Hospital is exceptional. The dogs have a wide choice of treats including liver and kangaroo and the cats have cat grass and even classical music to help ease any tension.
It's not surprising the business grew rapidly in the early days, with Richard Curia in the wings ready to help with the finances at every step.
In January the family bought a new home and after shopping around at mortgage brokers, they discovered that BOQ Specialist's offer was by far the most attractive. When their business partners, the Mannix family, moved back to America, Richard helped the Laurence family buy the practice and the land and building outright.
"Mike and I purchased the other 50 per cent of the practice and Richard helped us with that and then again when the building came up for sale," Dr Laurence says. "Buying the land and building in our self-managed super fund (SMSF) was all handled by Richard and the accountants and it all went very smoothly. Owning the premises where we operated our business was clearly a sound business decision to make."
Today the business has a staff of 15, having grown from just three vet nurses in 2013 when it opened. Foothills has recently added a company car as a mobile service and in August the practice proudly became one of just 54 vets across Australia and seven in Western Australia to achieve accreditation as an Australian Small Animal Veterinary Hospital of Excellence.
It's the culmination of five years of hard work meeting stringent standards through every facet of delivering care to small animals in an industry where competition is increasing rapidly. However, none could work as hard, nor be as passionate as Dr Laurence's 'Foothills Family' in delivering pets 'fear-free' vet visits.
Thinking about starting or growing your practice? Click on the link to find out more about our tailored financial solutions for setting up a practice. Ready to take the next step? Contact us to find out how we can tailor a practice finance solution for you, or call us on 1300 160 160.
Subscribe to Best Practice
Our bi-annual magazine which features case studies from our clients and gives you first hand examples of how we can help you to grow your business.