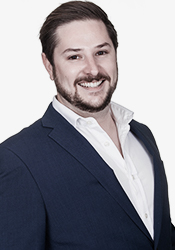 Justin is a Corporate Relationship Executive in the national corporate health team, Where he supports larger clients with their finance requirements.
Justin has particular interest and experience in:

A strong understanding of the intricacies of business and financial management;
A holistic appreciation of clients' values, goals and aspirations;
A passionate approach to assist high growth and emerging corporates with tailored financial solutions to achieve their objectives; and
A genuine desire to form strong relationships in order to develop a deep understanding of clients' financial needs to deliver market leading outcomes.
With over 10 years of banking experience including three years with BOQ Corporate Banking, Justin possesses extensive experience in managing high net-worth clients and large complex exposures to deliver exceptional outcomes for clients. Justin prides himself on developing strong, long term relationships to provide ongoing superior standards of financial support.
In his spare time Justin enjoys film, reading and sharing good food and wine with friends.
Mobile: 0431 207 124

Address: Level  6, 100 Skyring Terrace, Newstead, QLD, 4006
 
Read about how Justin has helped his clients below: