How Dr Michael Tam built two dental practices
After moving away from his roots in North Sydney and building a successful dental practice on the other side of town, Dr Michael Tam returned and did it all again.

  6.5 minutes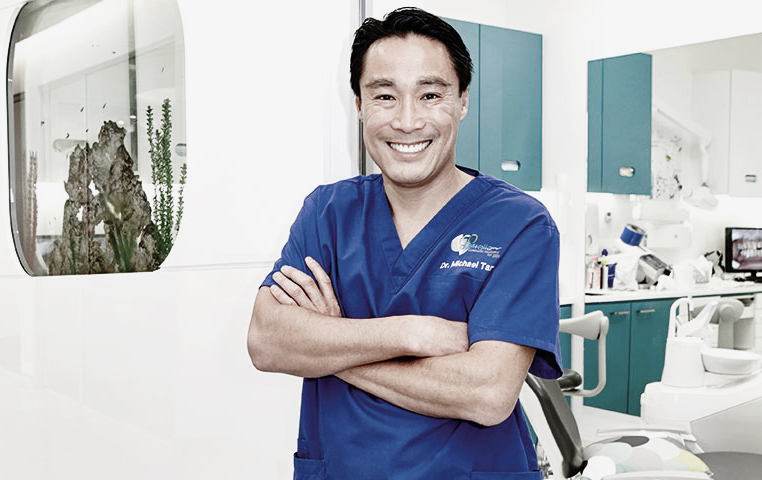 There is a healthy argument for the connection between passion, job satisfaction and business success. Dr Michael Tam is absolute proof of that. The owner of Smile by Design, with practices in Bondi Junction and North Sydney, has seen his name become synonymous with high-quality dentistry with a special interest in cosmetics and implants. His real drive, he says, comes from seeing the irrefutably positive impact his work has on patients' lives.
"People walk into our practice and they are unhappy with their appearance. Their self-esteem and confidence levels are low and you can see this in their demeanour," he says. "
Then we do what we do and one-to-four weeks later, they walk out with a new smile and they seem a changed person. They appear a lot more confident.
It is quite fulfilling to play this role because, as tacky as it might sound, we are changing lives one smile at a time. We are actually creating a difference and that is why I love what we do in our cosmetic dental practice."
Who is Dr Michael Tam?
Some of the recognition Dr Tam has enjoyed comes from the fact that he has never shied away from media. He has worked with Australia's Miss Universe entrant Tegan Martin, showcased his skills by appearing in various TV series, such as the Seven Network's Bringing Sexy Back, and he, his wife and their three children are even the stars of a recent Cathay Pacific commercial that shows them frolicking happily in various exotic locations.
"I feel it is important to get out there," says Dr Tam, who grew up and studied in Auckland before moving to Sydney and beginning a career that has taken him around the globe. "As long as you're doing great dentistry, why shy away from showcasing and highlighting the profession? In our line of work, we're changing people's lives."
As well as celebrities, Dr Tam has worked on plastic surgeons and their partners ("If we can keep them happy, we know we're doing a great job," he says), parents and children. Referrals come thick and fast from the dental world, too, meaning his practice has built a great level of trust within the profession as well as among members of the public.
Building the profession of cosmetic dentistry
But you don't become such a success by chance. Dr Tam's achievements have come as a result of his willingness to continually learn. He completes over 200 hours of training every year. He is a founder of the Sydney Institute of Cosmetic and Implant Dentistry and a graduate of the Las Vegas Institute for Advanced Dental Studies. Dr Tam is also a member of the American Academy of Cosmetic Dentistry. As well as being interested in continually advancing his own knowledge, Dr Tam is dedicated to sharing his learnings with others.
"I like to get out there and be involved in the profession," he explains. "I write articles for cosmetic surgery magazines. We organise mentoring nights and we're doing that more often now. We do that for younger dentists. They come in and we talk about a whole range of things, not just dental."
Starting his own dental practice
Nine years ago, the North Sydney practice at which Dr Tam was one of three partners was corporatised. After six years operating under that structure, Dr Tam decided to go out on his own, but the corporate contract disallowed him, for two years, from opening a practice anywhere nearby. So, he moved to Bondi Junction and very quickly built up a thriving clinic not far from the popular Westfield shopping centre.
"Thanks to the support of BOQ Specialist, we were able to build up that practice surprisingly quickly," he says. "When I returned to North Sydney—I had decided it made better economic sense to purchase a premises rather than rent—I worked with BOQ Specialist once again. They made things very easy. It was actually an extremely simple process, thanks to BOQ Specialist's help. They were very responsive to our needs and, importantly, were very contactable throughout the entire process. They are approachable, efficient, responsive and they really understand the profession."
The benefits of owning your own dental practice
Dr Tam's mother told him that money spent on rent was 'dead money'. It was a good lesson, he believes. So, as soon as the opportunity arose to buy his own premises, as well as the tax and investment benefits that come with such a purchase, he jumped at it.
"This business is now completely my baby; it's all me," he says. "Now I just have to work hard and enjoy the journey. What comes next? You'll just have to watch this space, but it's with thanks to BOQ Specialist. It would not have been possible without them."
Thinking about purchasing your practice premises? Click on the link to find out more about our tailored financial solutions for buying commercial property. Ready to take the next step? Contact us to find out how we can tailor a finance solution for you, or call us on 1300 160 160. 
Subscribe to Best Practice
Our bi-annual magazine which features case studies from our clients and gives you first hand examples of how we can help you to grow your business.