Navigating Change: How BOQ Specialist helped Dr. Adeniyi Borire
If you didn't know it was true, you'd think the early life story of neurologist Dr Adeniyi Borire was straight out of Hollywood.

  6 minutes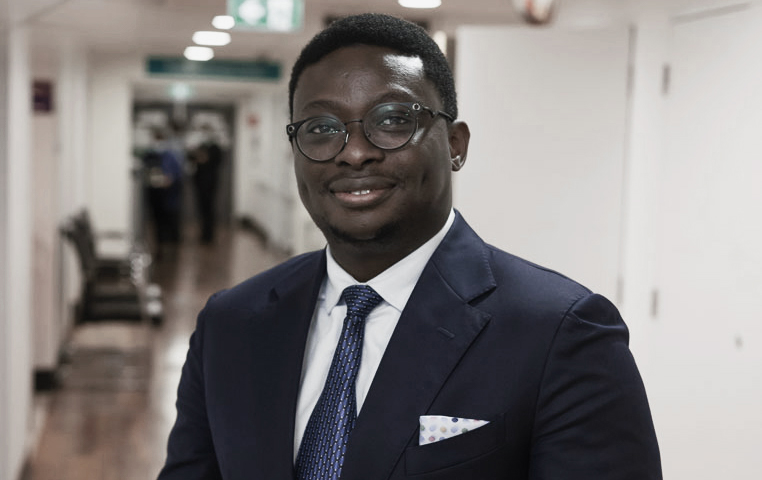 Many people face obstacles in their journey to becoming a doctor. For neurologist Dr Adeniyi Borire, his immediate challenge was the sight of blood. "Even up to today, if I see arterial blood, it still makes me feel quite nauseous," he says. "I don't mind drawing venous blood, but, man, when you see an artery spurting out blood, it still gets me. Even on TV, I can't watch it. I collapsed twice in theatre during operations while I was an intern. That's when I knew I was never going to be a surgeon."
If there's a lesson to be learnt from Dr Borire's success, it lies in focusing on your strengths, rather than your weaknesses. But to just say 'focus on your strengths' sounds obvious to the point of being bland. Sometimes you need some context. So when Dr Borire says, "I'm quite nerdy, so reading and doing research was something I could enjoy", the real lesson comes from seeing where he learnt that about himself: as a hungry 14-year-old child of a single mother, living alone and scrounging for cast-off food in the poorest parts of Lagos, Nigeria.
Lagos has a population the size of Australia's jammed into a metropolitan area the size of Sydney. Dr Borire, one of five children, was a precocious student there who left school and home to study, first computer science then medicine.
"I'd wake up with nothing, no breakfast, no transport fare," he recalls. "I would stand at the bus stop every day and beg for a  transport fare. I'd get enough money to take me to college. And then, after college I'd go to a restaurant and wait until everybody had eaten, and get scraps that I'd eat. I had only one sandal, and my father's oversized pink shirt and a pair of pants. That's what I wore to university for a whole year."
His church was a source of comfort during that time. It was in church that he met Ayo Awe— his Sunday school teacher and a mentor, of sorts—who saw he was about to give up his studies, and offered to pay his tuition fees for the rest of his degree. "He broke the yoke of poverty," Dr Borire says. "So that set me on the path of achieving my goals."
Opportunity knocks
One of the brutal advantages of a mega-city like Lagos is there are a lot of unclaimed dead bodies which afford medical students cadavers to work on. Towards the end of his degree, and while studying neuroanatomy, Dr Borire dissected a skull and saw a real brain for the first time. "That was when I knew I was going to be a neuroscientist. I saw the brain and I was intrigued by its complexity. I thought this was something that I'd really like to explore."
He won a scholarship to go to the National Hospital of Neurology and Neurosurgery at Queen Square in the UK. He had never seen an MRI before. It was in the UK that he realised he had to leave Nigeria if he wanted to continue his studies. He kept applying for scholarships elsewhere but was either knocked back or stymied by a lack of funds every time.
So he returned once again to Nigeria, and started working as an intern in the local teaching hospital.
Then one night, he saw a documentary on the BBC about Australia needing doctors. The next day he went into work and saw an Australian professor, John Hamilton, was delivering some lectures and wanted to meet local interns. "I think he was working with the Australian and British Postgraduate Medical Colleges aimed at helping African countries improve their postgraduate education," Dr Borire says. "As the lecture finished, I went back and I said, 'Thank you for everything, and can I get a business card?' That business card was pretty much what changed my life."
The big move
A few weeks later, he emailed Professor Hamilton, who encouraged him to try the move across the world. Dr Borire started saving all he could. It took him 12 months, but he got there. Then the global financial crisis hit, and his father became ill. Most of his savings evaporated. He managed to hang on to just enough to get to WA and register for the Australian Medical Council exams.
He found accommodation with a Nigerian family in Morawa, a small town about 400 kilometres northeast of Perth. He had a three month visa, and had passed his Medical Council exams—but he couldn't get a job.
"I was just an intern from a third-world country. I had no experience," he says. "Australia was looking for doctors, but they were looking for experienced GPs from comparable health systems, like the UK, South Africa, Ireland, United States, not from Nigeria."
Desperate, dejected, and with just a couple of weeks left on his visa, he decided to take a leap of faith—and went to see the mayor of Morawa. "I was 25 at the time," he says. "And I was just so determined to make something out of my life."
The mayor was moved by his story, and was staring down his own problem of only having one GP to service the town. Together, he and Dr Borire created a position of 'medical officer in general practice', to be supervised by the town's existing GP. While he was waiting for the WA Medical Board to give him the green light, Professor Hamilton contacted him and found him a job as a resident medical officer at John Hunter Hospital in Newcastle, on the other side of the country.
On a mission
Thus began Dr Borire's journey through the regional NSW hospital system, constantly learning as he went. "I'd never seen all these medical conditions," he says. "In Nigeria we read about them in textbooks. We had HIV, tuberculosis, and malaria. Here, you have multiple sclerosis and ulcerative colitis and alcoholic cirrhosis."
During that time, he married, then moved to Sydney to train in neurology at St George Hospital. He developed an interest in neuromuscular ultrasound. More study followed, which resulted in him being awarded the American Association of Neurology and Neuromuscular and Electrodiagnostic Medicine Golseth Young Investigator Award. "They flew me all the way to Phoenix, Arizona to present my paper," he recalls. "There were only two black people in that room. That was one of the highlights of my career."
Long-term relationships have been an important element of Dr Borire's journey, from that with his Sunday school teacher, to his various mentors—and also his relationship with BOQ Specialist.
 
How BOQ Specialist's Finance Solutions assisted Dr. Borire 
Dr Borire has been a client of mine for nearly nine years now," says BOQ Specialist's Pipi Sopp. "During this time he has purchased multiple residential properties to build his investment portfolio. He's also financed a few cars over the years, and some equipment too.
"The main appeal for Dr Borire is the flexibility of structures that we've been able to offer, to be able to assist him. We've always been able to facilitate the majority of what he's looked to do. But I think the most important thing is the long-term relationship, which is something unique that tends to happen with BOQ Specialist. Because we're specialists in finance for medical specialists, we're in a better position to understand Dr Borire's long-term career trajectory, which makes it easier to help him with what he needs."
Today Dr Borire works as a consultant at Liverpool Hospital and in private practice at Southwest Neurology. But he maintains interests outside of medicine. During the pandemic he decided to write his life story. The resulting book is Navigating Change (available at www.niyiborire.com/navigatingchange), which is the cornerstone of a mentorship program and conference. "As a physician, I'm a counsellor, I'm a coach, I'm an encourager, and I'm supposed to help people build confidence and help them get better," he says. "And of course, what other specialty would give you that option other than neurology?
"And I enjoy that. For me, medicine is not practising. Medicine is not a profession. It's a calling. For me, it's a ministry, it's a mission. It's my life purpose. And I enjoy it."
Thinking about starting or growing your practice? Click on the link to find out more about our tailored financial solutions for setting up a practice. Contact us to find out how we can tailor a practice finance solution for you, or call us on 1300 160 160.
Subscribe to Best Practice
Our bi-annual magazine which features case studies from our clients and gives you first hand examples of how we can help you to grow your business.