Starting a medical practice from scratch
Fresh out of training, Dr Madeleine Adams started her own practice with no referral base in a new hospital.


  6 minutes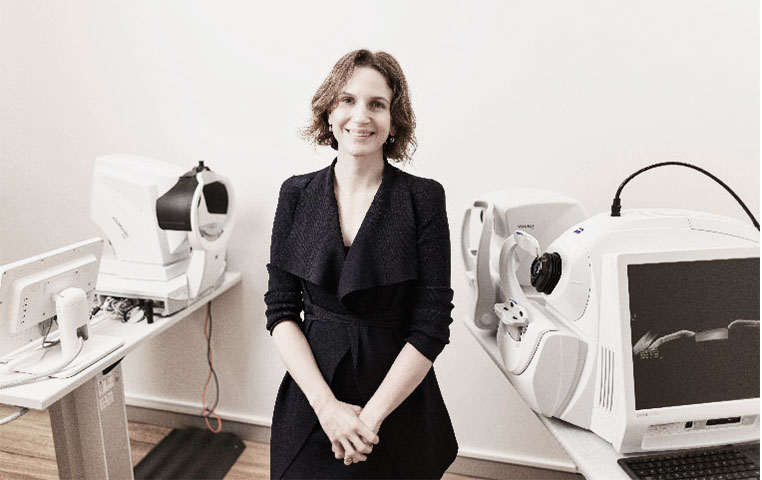 Faced with the prospect of doing something new, Dr Madeleine Adams has often found herself diving in headfirst. It's an admirable approach, although one that sometimes creates its own problems. For example, as she came to the end of her ophthalmology training, she was weighing up the option of joining an associate's rooms or opening her own. "When it came down to it, I felt that I wanted to do things my own particular way," she explains. "And I thought if I didn't get on and do it then, I never would. And so I called a colleague —a mentor, really—and said, 'I'm thinking I probably want to do my own thing after all, and I've seen that this hospital is being built in Taringa and it would suit me in terms of where I live'. And he said, 'Go for it. You can do it'. And so I did.
Choosing Ophthalmology
"I know some people say they wanted to do ophthalmology since they could walk, but it wasn't the case with me," Dr Adams says. "My dad was a physician, and I was doing general medical jobs, but I noticed I was really drawn to all the surgical and procedural aspects of medicine. And then one of my bosses said, 'Have you thought about ophthalmology?' I hadn't at all. And he said, 'Why don't you apply and see how it goes?'
"And so I did, and I loved it. I was much happier in a specialty where people were generally happier. I love the positive outcomes. I love the way you can really make a difference to people's lives. In ophthalmology there is this great combination of lasting relationships with your patients with chronic issues who attend over many years, and shorter interactions with people who come in for cataract surgery and leave delighted with how their lives are so quickly transformed."
No-guts no-glory
When that opportunity to get her own rooms at the Westside Private Hospital in Taringa came up, Dr Adams saw this as her path. "I rang the accountant the next day, and said, 'I'm thinking I'm going to start my own practice'. And he said, 'Well, it's a bit of a no-guts no-glory approach, but if you work hard, you can probably make it work'." "That's when I thought, 'Well, how are we going to finance it?'"
BOQ Specialist were there to help finance the start-up of her practice - Insight Eye Surgery. As it was a brand new hospital, there was no referral base for her there. "No-one had heard of it, and no-one had heard of me," she says. "One of the senior ophthalmologists said to me, 'Madeleine, get a book to read for the first few months, but then you'll be busy'." He was right, but those first few weeks were quite nerve-racking. "I didn't take over someone else's practice. I didn't have a whole ton of people on the books. We just had to work from scratch. So I had to form good relationships with our referrers."
"I don't think there would be many banks that would lend to a newly graduated ophthalmologist for her to open up her own new consulting suite in a new private hospital that was untested in many ways," says Michael Richards of BOQ Specialist. "But Dr Adams had some good qualifications behind her. She'd studied overseas, was  well-regarded and the new hospital was in a blue-chip area in Brisbane. So we funded her for a commercial property and helped her with the fit-out and some equipment.  I don't know of many other banks who understand the profession as much as BOQ Specialist does to feel comfortable doing that."
Thinking resourcefully

Different specialists have different methods of building their referral base. Some will line up meetings with local GPs and optometrists. Some will bake cookies and deliver them as an introductory present. Some just rely on word of mouth. Dr Adams lined up meetings with the local optometrists, but also started her own professional education sessions for them. "It's great, because it's a two-way street," she says. "It's a form of marketing, but it's also providing them with something useful. It improves patient care because optometrists and GPs have a better awareness of the subjects that we're teaching on."
She carried on doing that during COVID, although she had to switch them to webinars instead of in-person events. "We're just trying to keep that contact with our referrers—and listening to their feedback and asking them what they want," she says. "And it's not just a dinner where I try to convince them to give me referrals. I'm actually trying to provide them with useful content which will help improve their practice too.
An opportunity to expand
As a way of managing their busy lifestyle, Dr Adams and her husband and kids were spending weekends at Noosa on the Sunshine Coast. "We've felt this attachment to Noosa for a long period of time," she explains.
So when a local ophthalmologist there was approaching retirement, she saw an opportunity—a large area that wasn't going to be serviced by a local specialist. She tested the waters for a while, working in sessional rooms. "So I knew that it was going to work," she says. "And in fact, I realised that I had to acquire more space and have more time and a better way of doing things; I either had to stop doing it or do it properly."
Financially it made sense. "We have one member of staff that works in both locations and then we have separate teams at each, but they all work together really well, and overall we've got a really great team." She went back to BOQ Specialist, who had provided her with finance for her first rooms, and they could see how her business model worked immediately. 
They found a spot on a reasonably busy road, which ticked all the boxes in terms of visibility, size, and easy access for people with wheelchairs or walking aids. The site also had off-street parking and disabled parking. "We were just really lucky that we found this location," she says. "We did look at another place, and we were considering that, but it ended up being too much of a squeeze. Which was fortunate in retrospect, because with COVID, we needed a waiting room that's big enough to fit a few people in with social distancing rules."
Dr Adams is now looking forward to building up twin practices in two areas she loves. "Now we're just concentrating on providing the best care for our patients," she says. "That was one of the reasons why I wanted to set myself up too, just to do things in a certain way. Our whole brand is treating our patients as we would like our family to be treated. We don't want patients to feel that they're on a conveyor belt. It's about listening to them and providing the best possible care."
Thinking about starting or growing your practice? Click on the link to find out more about our tailored financial solutions for setting up a practice. Or ready to take the next step? Contact us to find out how we can tailor a practice finance solution for you.
Subscribe to Best Practice
Our bi-annual magazine which features case studies from our clients and gives you first hand examples of how we can help you to grow your business.