For pain specialist and anaesthetist Dr Michael Miu, the move into private practice has been a painless experience.

  3 minutes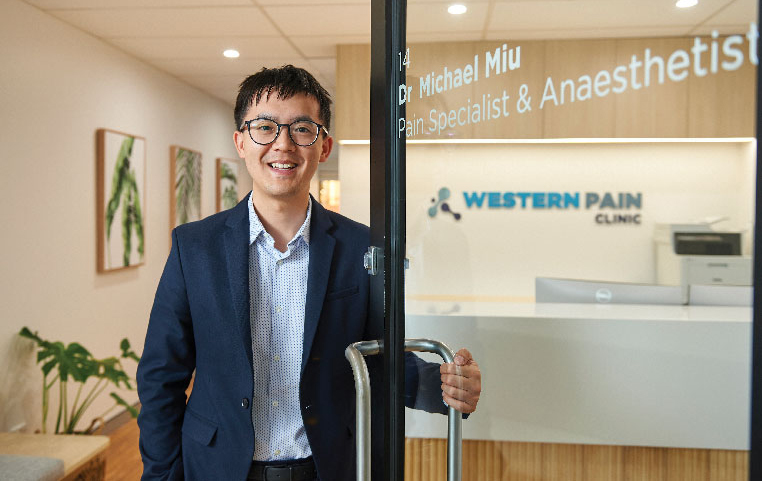 A dual specialty in pain medicine and anaesthetics makes a lot of sense—both are about relieving pain, after all. But as Dr Michael Miu found out when starting up his practice, the two don't perfectly complement each other when it comes to finding rooms. As an anaesthetist, it makes sense to have rooms close to the hospital where you operate. But as a pain specialist, you need a decent sized space to do procedures like nerve blocks and injections. If you're going to follow both specialties, your real estate choices are considerably narrowed.
"Pain medicine is a natural extension to me from anaesthetics," he explains. "I studied medicine at the University of Western Australia. After five years of anaesthesia training, I then did an extra two years in pain medicine. Once I finished, I decided I wanted to open my own rooms, near where I live and where I practise as an anaesthetist."
Cure for pain
The appeal of pain medicine for him grew from the simple, and somewhat sad fact, that "there are a lot of people in pain. It could be after an operation, it could be from an injury, it could be back pain," he explains.
"As you get older, for example, there are lots of different reasons why people might be in pain. So pain medicine offers a very broad scope. If I was consulting from my own rooms, I could do procedures that could relieve people from pain without having major surgery. I knew people would prefer an alternate day procedure, where they can go home the same day, to major surgery."
After working for others for about a year to get his head around how to set up and run a business, Dr Miu went on the hunt for his own rooms. It wasn't hard to find the place where he wanted to be. The specialist suites in the Murdoch Medical Clinic, right next door to St John of God Murdoch Hospital, ticked all the boxes in terms of location.
"It's very convenient," he explains. "It's in a building next door to where I operate, so I can practise both my specialties at the same time."
Finding the link
He approached the strata manager to ask if anyone was planning on selling their rooms. "Coincidentally there was a specialist who was retiring and selling his rooms just the week before," he says.
"So we got linked in with each other and negotiated, agreed on a price and had a private sale."
He decided to purchase the rooms through his self-managed super fund on the recommendation of a colleague. He went with BOQ Specialist for finance because of similar recommendations.
"It was very easy," he adds. "Josh (van Bruchem) helped me with a lot of things. So the whole process was very straightforward."
In fact, he confesses, "it was so straightforward, I didn't really know there was much of a process apart from just signing a few pieces of paper." 
"Michael was recommended to us via another one of our clients," explains Josh van Bruchem of BOQ Specialist. "I connected with him, and we had a few discussions. The initial conversation revolved around pricing, however, this quickly evolved into structuring the purchase through a self-managed super fund (SMSF).
"I presented a few options and I ultimately connected him with a local reputable accountant, from Paragon Consultants, and together, they came up with a really strong strategy for utilising his SMSF. So now Michael is in a prime position where he's got tax effective debt, whilst building a retirement asset."
Thinking about starting or growing your practice? Click on the link to find out more about our tailored financial solutions for setting up a practice.
Ready to take the next step? Contact us to find out how we can tailor a practice finance solution for you, or call us on 1300 131 141.
Subscribe to Best Practice
Our bi-annual magazine which features case studies from our clients and gives you first hand examples of how we can help you to grow your business.