For Dr Mina Fam and Dr Monica Ibrahim it's a family affair
Strong family ties are why GP Dr Mina Fam had no qualms at all going into practice with his wife and her parents.

  7 minutes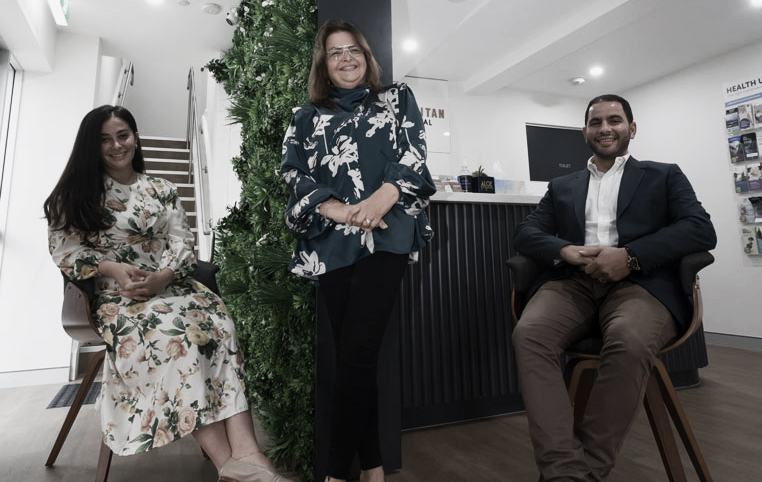 Going into practice with your spouse is not uncommon in the medical world. GP Dr Mina Fam, however, has taken things a step further—he and his dentist wife, Dr Monica Ibrahim, have set up a practice with his in-laws as well. They've recently opened the Good Samaritan Medical and Dental clinic in Sylvania, Sydney, with Dr Ibrahim's parents, Drs Amal and Magdy Ibrahim.
While it might help having mum and dad on board for the ride when you purchase a residential house, Dr Fam found it was almost the opposite when purchasing a commercial property. "Because Amal and Magdy have other investment properties, the banks actually saw their investment properties as a liability and were reluctant to give us a loan altogether, which sounds ridiculous," he explains, which was frustrating because they had found the perfect spot.
The path to general practice
A lot of Dr Zalan's work is built around the increasing understanding of the interconnectedness of body and mind, the roles of genetics and epigenetics and the trans-generational influence of behaviour.
"There is more growing evidence that our emotions, thoughts and behaviours are not only influenced by our genes and brain but equally they also impact on our brain chemistry and our genes. Therefore, through our experiences, we are not only influencing our own lives but also affecting the next generation's as well on multiple invisible levels.
"When a child is diagnosed with a chronic condition, such as Autism Spectrum Disorder, Attention Deficit Hyperactivity Disorder, Learning Disorder or Developmental Delay, the whole family will be affected. The extra load of caring for a child with special needs creates family stress with increased rates of conflict, separation and divorce. Siblings also display a significantly higher incidence of emotional and behavioural problems. Their emotional needs are frequently neglected and may have long-term implications."
"Therefore, if we can optimise how the family is dealing with the stresses of managing a chronically ill child, we're not only changing the life of that child, but the life of their parents and their siblings as well.At our practice we have recently introduced a new program, helping parents to adjust to the diagnosis of Autism Spectrum Disorder, strengthening their relationship as a couple and learning new parenting strategies. A new program, targeting siblings of children with special needs, to help them adjust to their distinctive challenges will be starting soon."
Joining forces
One day around this time Dr Fam was having lunch with his in-laws. "I was with Amal and said, you know what, we should open a clinic together," he recalls. Dr Amal Ibrahim had run a small, solo practice in Sylvania for the last 17 years. "And Amal said, 'It has to be close to my clinic so we can keep the patient base.' So we jumped on realestate.com and found this house literally 500 metres down the road from her, which had all the specifications we were interested in. We found it online on the Sunday, we saw it on the Wednesday, and we bought it on the Friday."
He already had a residential loan through BOQ Specialist, so they didn't have to look far for finance. It was made easier by the fact that other banks saw his in-laws' investment portfolio as a risk. "Other banks don't recognise our potential, which was ridiculous and very frustrating. The thing I liked about BOQ Specialist is they said, 'We know doctors have secure jobs', whereas other banks were just looking at things on paper."
"When I first met Mina and Monica, I actually met them and Monica's parents all at once," reveals BOQ Specialist's Jordan Smith. "It was a unique scenario for us dealing with a whole family at once. There's often husband and wife teams, but you don't often have the parents involved in something like this as well."
Part of the reason that the development and fit-out of their clinic was an easy decision for the bank to make, was there was already a long-term relationship with Dr Fam and Dr Ibrahim—which makes sense, given BOQ Specialist's commitment to their profession.
"Initially we had helped them with their home purchases through my colleague Pipi Sopp," says Jordan. "So when they purchased this property, we were able to time all that perfectly with Dr Fam's career. He was going to finish his GP training and get this brand new sparkling practice ready to go for when he was done and ready to work there. It's possible because we understand the careers of medical professionals, and are well-placed to help them at every stage."
The property itself was a two-storey house, so they leased it out for a couple of years while they drew up plans for turning it into a combined medical and dental centre. All of the design and building work was done through Group HiS. "They were very good at helping with everything, to get everything over the line, even during COVID and lockdown. So we definitely owe them a lot of recognition."
The new practice is only just up and running, but Dr Fam feels they've settled in nicely. As to the obvious question about how it is working with your mother-in-law, he just laughs. "No, Amal and I are good friends. We get along really well. It's good. It's good fun." 
Thinking about starting or growing your medical practice? BOQ Specialist provides medical practice loans and finance solutions for setting up a practice.
Ready to take the next step? Contact us to find out how we can tailor a practice finance solution for you, or call us on 1300 160 160. 
Subscribe to Best Practice
Our bi-annual magazine which features case studies from our clients and gives you first hand examples of how we can help you to grow your business.