Future Medical Imaging Group's innovative new equipment
For radiologist Dr Andrew Dobrotwir, investing in a machine that makes brain surgery possible without any incisions was definitely a no-brainer.

  3 minutes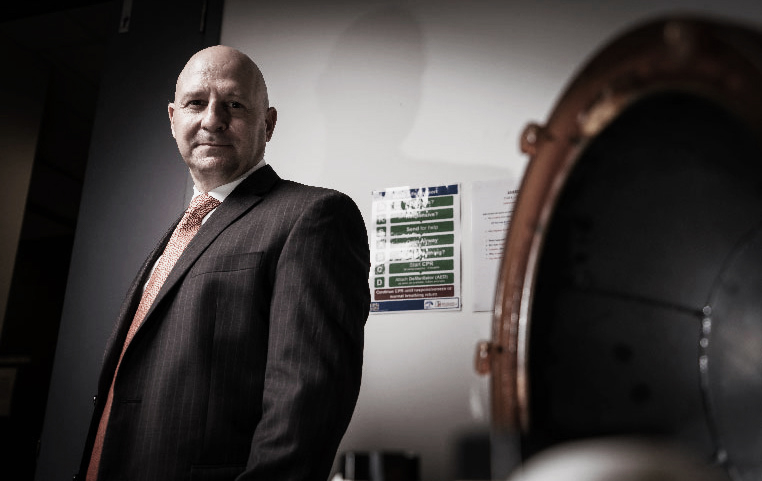 It's the stuff of science fiction movies: a machine that can allow a neurosurgeon to perform surgery deep in the brain without making any incisions. "It's quite amazing," says Dr Andrew Dobrotwir of Future Medical Imaging Group (FMIG). "The machine is called Exablate Neuro and provides MRI-guided focused ultrasound, or High Intensity Focused Ultrasound (HIFU). Using this, you're able to predict the thickness of the skull at every point on the patient's head. Then you can manipulate the sound waves in such a way that you can refocus the beam on the inside of the patient's skull."
Ultrasound technology works on the premise that sound waves can't penetrate bone. But as Dr Dobrotwir points out, that's not true. Very low frequency sound waves can penetrate the skull, he says.
"The problem is that prior to the development of this technology, as soon as the sound waves went through the skull, they would be defocused. So they would bounce around and you'd have very low energies and they wouldn't do anything of any value.
"But now we can actually focus it to a point within the skull, and you can see where that point of energy is using MRI. You can say, 'I've got 1024 sound waves. I want them to go through the skull and I want them to reconverge to a specific point inside the brain, so they are then generating heat and destroying a particular malfunction in the brain', and you do that with MRI guidance."
Partnering up
FMIG has been involved in focused ultrasound for over 10 years now. The company has been operating since 1999 as a specialist radiology centre, and has grown to six sites across Melbourne. About five years ago, Dr Dobrotwir started to hear about Brain HIFU from the people that developed it in the United States. "We were looking at the technology, but it was all just a little bit too hard because we didn't have a local clinical partner," he explains. "I'm a radiologist. I understand the technology but I'm not a clinician. So if you're going to do something that's as involved as the equivalent of neurosurgery, you really need to have a neurosurgeon. That way you've got a team of people to make sure that you're exactly where you need to be and that you're getting the support that you need.
"And having a clinical partner means the patients are being assessed before, during, and after the procedure. It means you have this highly skilled team that will make sure that the patient has the best outcomes possible."
Having said that, he knew the technology was so impressive it would only be a matter of time before clinicians started approaching them. Which is what happened when Professor Richard Bittar's Precision, Brain Spine and Pain Centre got in touch. Professor Bittar is a neurosurgeon and spinal surgeon who specialises in the treatment of spinal conditions, movement disorders and other intracranial conditions.
"Professor Bittar is involved in deep brain stimulation, which is one of the other treatments for this," Dr Dobrotwir explains. "There are quite a few people whose cases aren't suitable for surgery. The beauty of this treatment is those patients can get it, because with this procedure you don't need an anaesthetic—the patient is awake during the procedure. All you have to be able to do to be suitable for these treatments is lie on a table. This offers a treatment option for those patients who are not fit for an anaesthetic."
Luckily, both Professor Bittar and FMIG banked with Melinda Goddard from BOQ Specialist, so managing the finance for such a specialised piece of equipment was a lot less complex than it could have been. And it means Professor Bittar's patients have access to an incredible piece of technology.
"As a kid, I loved Star Trek," Dr Dobrotwir confesses, "and the doctor in Star Trek had a handheld instrument where he could diagnose you and then also treat a patient with the same instrument. While this isn't quite that yet, it is kind of Star Trek stuff. It really is amazing."
 
Want to update or invest in equipment for your practice? Click on the link to find out more about our tailored financial solutions for equipment finance. Contact us to find out how we can tailor a practice finance solution for you, or call us on 1300 160 160.
Subscribe to Best Practice
Our bi-annual magazine which features case studies from our clients and gives you first hand examples of how we can help you to grow your business.