A shared vision saw the young vets purchase the veterinary clinic where they first met.

  5 minutes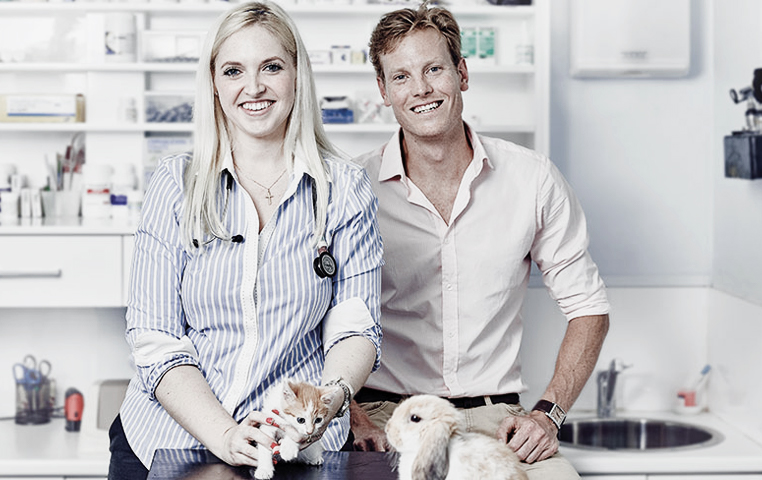 It's not difficult to see where business partners Drs Lewis Hunt and Caroline Wood obtained their professional drive. Both veterinarians were exposed to medicine from an early age, and it was a desire to combine this with their respective love of animals that led them to enter the field of veterinary science.
Dr Wood says she initially planned on opening up a surgery on her own, as she didn't know anyone "interested or crazy enough" to open one up with her.
After a few years working for others, she took on some temporary work at the local Collaroy Plateau Veterinary Clinic (CPVC). Dr Lewis Hunt worked there at the time.
Dr Hunt had begun contemplating branching out on his own—either setting up his own clinic or purchasing outright. The 36-year-old vet had been at CPVC for some time.
It was in January 2015 when the pair first met and realised almost instantly they had found their perfect business partner.
The benefits of setting up your own veterinary practice
"We had very similar ideas on what we wanted a veterinary surgery to be like. Having a partner was a new concept to me, but I did see the advantages of being able to share the workload and having someone to bounce ideas off. I was not anticipating finding someone with whom I was so compatible.
In addition, Lewis and I have very compatible skill sets—he is much more surgically based and I am more medically based, plus I enjoy the marketing and management side of the business so it makes dividing tasks easier and means that we have fewer skill deficiencies in our partnership," says Dr Wood.
She says while there are many benefits to becoming a practice owner at such a young age, there have been challenges too. "[Particularly] time management—there are so many things to think about and do when you need to manage the business as well as work as a full-time veterinarian. It is difficult to 'switch off' when you are away from the practice as there are so many small admin things that you could be doing, even when you are at home."
The challenges and rewards
For Dr Hunt, the challenges have been based around staffing issues as well as learning the ability to separate his clinic work from his management responsibilities.
"I quickly realised it is almost impossible to achieve much on the management side of things while at work, and I need designated management days to achieve anything."
That said, both vets say they have been surprised by how naturally they have fitted into their role as co-owners.
Neither party shies away from making decisions or working as hard as is necessary, Dr Wood says, and both have enjoyed watching the other develop and mature.
Being your own boss
The greatest part of being the boss is having the ability to adjust the way they do things to suit the clinic's requirements.
"It is so nice being able to just buy the new equipment we need without consulting anyone else, make the decisions about pricing and brands we order in, and even have complete autonomy on how we treat patients."
Eager to build on this solid foundation, future plans for the clinic include renovation, and a possible name change that better reflects the clinic's new direction. "We are also keen to continue to buy new equipment for the clinic which will allow us to do more procedures in-house, and offer a superior level of care to our patients," Dr Hunt says.
Thinking about starting a practice? Click on the link to find out more about our tailored financial solutions for setting up a practice. Ready to take the next step? Contact us to find out how we can tailor a practice finance solution for you, or call us on 1300 160 160.
Subscribe to Best Practice
Our bi-annual magazine which features case studies from our clients and gives you first hand examples of how we can help you to grow your business.