Dr Arun Dhir on the whole picture of gut health
Nothing exists in isolation says gastrointestinal surgeon Dr Arun Dhir, who is educating his patients about the mind-body-gut connection.

  4 minutes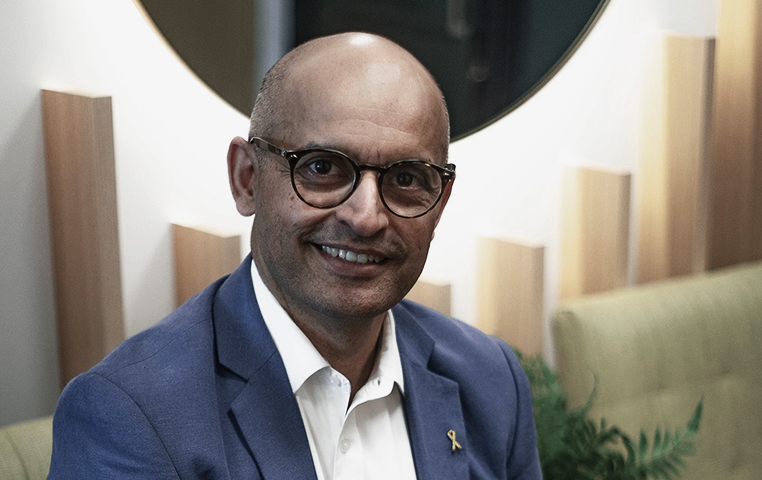 Every surgeon wants to bring some unique elements to how they want to serve their patients," says gastrointestinal surgeon, Dr Arun Dhir. "Yes, we are all trained as surgeons. We all do the same operations. But I think there is always a nuance, a uniqueness, a point of difference in how you communicate, relay and deliver your skills to make a difference in your patients' lives."
With his specialist qualifications coinciding with a growing public interest in gut health and its link to overall health and wellbeing, Dr Dhir is well-placed to help patients improve their lives. He has done so through his research work, his YouTube channel (which has more than 10,000 subscribers) and his five books. "This has really been my life's mission, because I truly believe that information creates transformation and that has been the mantra of my life," he says.
Dr Dhir is originally from India and he has always held strong views about the mind-body connection, having done yoga and meditation since he was teenager. "That was something I carried with me when I migrated to Australia in 2005." Sadly though, Dr Dhir's Indian origins meant that he also had to pursue his interests in the face of some of the uglier aspects of a foreign culture.
Racism and research
Dr Dhir realised he wanted to be a surgeon back in medical school—working with his hands appealed more than giving pills and prescriptions. While his fellow students were fascinated by brains and hearts, his attention was always drawn to gastrointestinal conditions. This subsequently morphed into a keen interest in bariatric or weight loss surgery. When he had the opportunity to finish his studies overseas, he was drawn to Queensland. However, he found the work environment to be a hostile place. "I landed in Queensland the same year that there were events going on in the media about a surgeon in Bundaberg, by the name of Dr Jayant Patel," he says. "There were notices in the lifts and common places in the hospital saying, 'If you are being treated by an overseas-trained doctor and feel you're not being treated appropriately or in a manner that is considered professional, please call this hotline number'."
That atmosphere of judgement and suspicion was draining, so when Dr Dhir finished his stint in Queensland, he decided to move down to Melbourne to eventually start his own practice. Within a few years, he was facing his 10-year anniversary in Australia and had earned some long-service leave. "I thought, 'How do I want to spend my six months of long service leave?' I took up courses with the Australasian College of Nutritional and Environmental Medicine (ACNEM)," he recalls. "I started trying to understand how to make sense of the gut-brain connection and its implications. The result of all that study was my first book, <i>Happy Gut, Healthy Weight.</i>"

Busy, busy, busy
While books and digital media have given Dr Dhir a platform to communicate empowering information, his practice has grown at pace, with some help from BOQ Specialist. "It was a small enough bank to be able to acutely look after our needs, but big enough to provide all the resources for our practice, business, commercial and residential needs too."
BOQ Specialist's Luke James says Dr Dhir has been a client of the bank for some time. "We first met him in 2014 when he applied for a car loan and from then on, it's expanded into a full banking relationship," he explains. "We helped him fit-out his first consulting rooms in Bundoora where he still is, and then assisted with his personal related finance as well. We have a really good working relationship.
"Part of that is the products that we offer, but it's also the flexibility of the escrow facility for fit-out, and the ability to utilise or convert those facilities into tax-effective structures for him as well. I do think, however, that the main driver of the relationship is that we are always available when he needs us and given our extensive experience in the industry, we're able to provide him with our own insights as well as referrals to trusted advisers and partners that can also help him on the business side."
He has recently opened a second consulting suite in Wheelers Hill. If that didn't keep him busy enough, he has also joined the army as a reserve surgeon. "I've got plans of engaging in some health and wellness programs that I wish to develop with the army," he explains. "I was looking for a way to contribute and experience some adventure too. Yes, I understand it is a higher risk adventure if I get deployed. But I think at the end of the day, it's very fulfilling and I want to give something back to this beautiful country." 
Thinking about starting or growing your practice? Click on the link to find out more about our tailored financial solutions for setting up a practice.
Ready to take the next step? Contact us to find out how we can tailor a practice finance solution for you, or call us on 1300 160 160.
Subscribe to Best Practice
Our bi-annual magazine which features case studies from our clients and gives you first hand examples of how we can help you to grow your business.