A full-service ophthalmology clinic
Eyes First, a specialist clinic in Springvale launched in April 2017, was the realisation of a big-picture vision for ophthalmologist Dr Tu Tran and her business-savvy husband Quoc Vo.

  6 minutes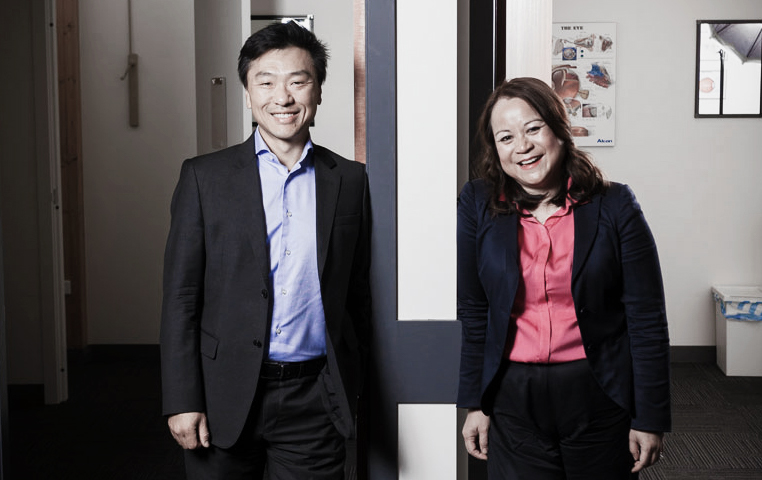 When Dr Tu Tran and Quoc Vo decided to establish a full-service, multi-lingual ophthalmic clinic in Melbourne's suburbs, other practice owners advised them to scale down their vision. "Everyone we talked to was saying, 'Wow, that's a big step!'—but Tu and I don't do things by halves; we love a challenge," says Quoc.
Typically, medical specialists establishing their first practice would start small and build organically, "whereas the approach we've taken is to go right to our end vision in 30 years' time, then start where we want to end up: with a big clinic," he explains. "And because of my business background, I had a plan to get there."
Quoc and Dr Tran completed their site search in Springvale, a multi-ethnic, predominantly Vietnamese suburb in Melbourne's south-east that Quoc's research revealed had the ideal demographic to support their vision of a multilingual, comprehensive multi-doctor practice.
"We found the place—an old church—quite by accident," he recalls. "The auction date was looming; luckily, our parents, who are very supportive, were able to help us out. The finance came later, helping us to fit it out, buy all the equipment and get it operational."
"We were able to design the clinic exactly as we wanted it as we had a large space to work with. Along with consulting and testing rooms, we've also got an operating theatre where doctors can do clinical consulting and minor procedures on-site. It just makes sense to get it all in one location. From a referrer's perspective, that's important."
A perfect partnership
The couple's practice, Eye Specialists Group (trading as Eyes First), opened in April 2017. It's very much a partnership, with Dr Tran and Quoc's complementary skills proving advantageous. "Tu and I are both directors but I'm the business side; she's focused on the clinical," Quoc explains. "My wife's our most important client so if she wants something a certain way, I make it happen! Anything operational, she doesn't have to worry about; I handle hiring, IT, processes and financials. She provides the vision; I execute it.
"Our overall vision was to have a big, comprehensive practice—and the only way to have that is to have ophthalmologists specialising in every part of the eye. We worked very, very hard to find multilingual doctors from each key area. Now we have that, it's about patients coming on board; then we can add further sub-specialties."
20-20 vision: attaining work-life balance
Dr Tran and Quoc, parents of two children, are very family-minded—"as much focus and emphasis as we place on the business, family's always the more important thing," he assures. But juggling both hasn't been easy.
"There's been lots of hard work and we've needed the backing of our families to get us to where we are. We've missed a few sporting events but as much as possible, we've tried to be there for the kids. Part of our strategy is to get the right people on board [at the clinic] that we can trust to look after our clinic."
Planning pays off
"Before we opened the doors, we had to have the seed capital to firstly, secure the premises and secondly, fund the fit-out," Quoc explains. "We wanted to be operational with that funding, and we were."
BOQ Specialist secured them the finance in two stages: the first covering the cost of the practice fit-out; the second for the purchase of specialist ophthalmic equipment, to be delivered in two tranches.
"My projections weren't as good as the actuals—we grew faster than expected. We weren't expecting so many specialists to come on board so early, so that's where the second phase of funding came in."
Fortunately, he adds, BOQ Specialist was accommodating. "I'd made cautious projections but wanted to make sure the finances wouldn't be overburdening if we didn't meet them.
"We still have a bit of room to grow. So, our forward strategy will be to increase doctors and patients, get it up to capacity and then, who knows? Maybe open another business. But right now, as a base service in this community, it's working really well. We've been very lucky to find wonderful staff who are just as dedicated as we are. We've all put a lot of work and planning into the front end and everything has fallen into place. When Trevor Knowles saw me coming with my 80-page business plan, he probably thought, 'Okay, these guys aren't messing around!'"
Thinking about starting or growing a practice? Click on the link to find out more about our tailored financial solutions for expanding your practice. Ready to take the next step? Contact us to find out how we can tailor a practice finance solution for you, or call us on 1300 160 160.
Subscribe to Best Practice
Our bi-annual magazine which features case studies from our clients and gives you first hand examples of how we can help you to grow your business.