Springs Medical expanding possibilities
The four partners of Springs Medical have found their practice growing recently as people move from the cities to the regions.

  6 minutes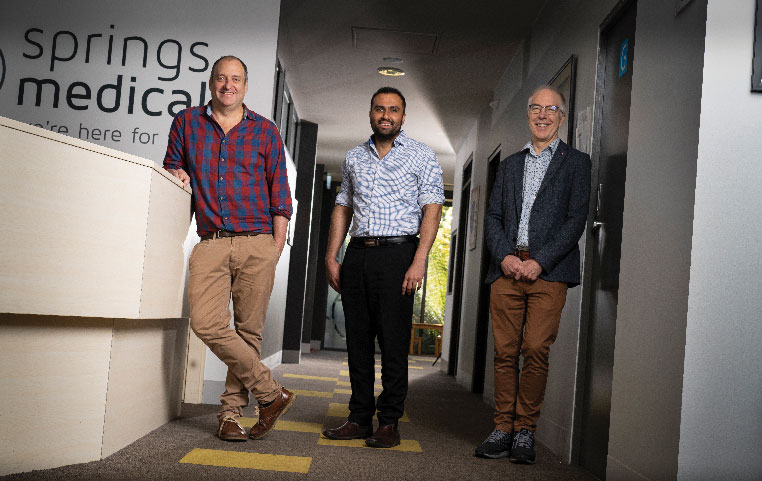 When people talk about 'unintended consequences', it often has negative connotations. But the unintended consequences of Springs Medical's expansion over the last couple of years meant this GP practice was suddenly well-positioned when the pandemic hit last year. What started as the merger of two Daylesford clinics at the end of the 1980s had led to a gentle expansion through their part of regional Victoria. About 10 years ago they opened a small satellite clinic in nearby Trentham, then last year expanded into Kyneton, a bit further west.
"The Kyneton clinic was opened in early 2020," says Dr James Smith, one of the four directors of Springs. "When the COVID crisis hit we ended up splitting into teams. So some doctors only worked at the Kyneton clinic, some only worked at the Daylesford clinic, and some only worked at Trenthan, to avoid having to shut down if people got sick."
Dr Smith is one of four directors of Springs Medical—the other three are Dr Gerard Ingham, Dr Brad Wyer and Dr Sandeep Dhaliwal. "Gerard Ingham has been there the longest. He was one of the original founders of Springs. Brad Wyer joined the directorship about six or seven years ago. He's originally a Queensland boy and moved down to Daylesford and worked for Springs for a number of years before moving onto a directorship. Sandeep Dhaliwal joined in 2019 as a director. He's studied medicine in Malaysia and moved to Australia with his wife to complete his GP fellowship. He worked in the town of Kyneton for a few years, and then moved over to working in the Daylesford clinic. When the opportunity for a directorship came up, he took it, and he's been the driving force behind our expansion into Kyneton."
Dr Smith is the newest director on the team, having joined in May 2021. "I'm originally from Melbourne and finished up my training in general practice at the end of 2019," he says. "And I always wanted to move to a rural location. So my wife and I looked around in the four quadrants of Victoria and found Springs Medical. I thought it looked like a wonderful place to work. So I applied and started working in February 2020. Then an opportunity arose later in that year when one of the original directors was looking to wind down. I took over his share from May, which was always my plan, but probably came a bit earlier than I had expected. It turned out to be very good timing. We bought a place at the end of 2019 and moved up here, and then I started working in February 2020. About four weeks later we were in lockdown."
Regional expansion
While much has been written about the population drift to rural centres, governments and community leaders have been devising programs around the country to attract medical professionals to the regions. It was one of those programs that turned Dr Smith towards Daylesford originally.
"I was required to go somewhere," he explains. "It was part of a scheme called the Bonded Medical Places Scheme. But as I thought more about it, I thought I might actually want to move rurally anyway. So it was partly that, but mostly wanting a lifestyle change."
In the past couple of years, plenty of others have had the same plan, which has led to a fair amount of population growth in the area.
The original expansion into Trentham came about, Dr Smith says, to meet community demand. "At that stage Trentham was a little town with no major medical centre," he says. "Although a small branch practice had been operating for many years, the opportunity arose to work with the local health service to establish a larger presence in the town."
"The Daylesford clinic was well established, and they had a good set-up and gauge of what the community needed. So it was a fairly easy thing to move out there. It took a little while I think to get it off the ground."
The move into Kyneton was similarly driven by the fact that the town was seeing a residential growth spurt. When Dr Dhaliwal came on board as a partner, he pointed out the opportunity to the others and it was generally agreed they should start another clinic there.
"We started off in Kyneton with a small little sliver of a property," says Dr Smith. "The plan was always to have a phase two where we increased our consulting rooms and increased our workforce in terms of getting doctors. That happened from early this year. We took over the building adjacent to us, which used to be an old rug store and we knocked down a wall to connect the two. It's now become quite a big clinic. We've got five consulting rooms on one side, three on the other, two nursing rooms and a big reception area. And then upstairs is a big board room with a staff kitchen."
Playing the role
One of the other reasons for the success of Springs Medical has been their structure. Between the four of them, the partners oversee a staff of around 90 people across the three sites. "It's a pretty big operation, running three clinics," says Dr Smith. "Each director has their own portfolio. So for instance, mine is Clinical Systems. So that involves managing the patient experience from door to door and managing clinical risks such as medico-legal matters, and meeting with the team leaders such as the nursing staff and the admin staff to troubleshoot those logistical issues.
"Dr Wyer's main role is workforce. He manages the hiring of all our staff. He's also responsible for the negotiations with our local hospital across the road. Dr Ingham does a lot of teaching. He also runs all our IT. He manages all our registrars and medical students. And Dr Dhaliwal is our current managing director, which is a role that rotates between us every year.
"Each year, one of us takes that MD role and heads all the meetings. It also involves working closely with our brilliant practice manager, Emma Johns, and overlooking the operation. A large part of Dr Dhaliwal's portfolio involved getting our Kyneton clinic up and running, and it's been his baby." It was Dr Dhaliwal and Ms Johns who worked with BOQ Specialist to finance the expansion at Kyneton, as the clinic had a longstanding relationship with the bank.
Even though BOQ Specialist had a history with the partners at Springs Medical, they were originally the second choice when they first looked at expanding into Kyneton, says BOQ Specialist's Ursula Coetzee. "Because they're regionally based, they originally went to one of the regional banks," she explains. "We could obviously offer them products that were more suitable to their needs. I think another factor was the personalised service that I could offer, even though we're not in the region itself; the fact that they had one point of contact and I've got the support team behind me, it made the whole process a lot more favourable for them, and that's how this whole project started."
When the Kyneton practice expanded rapidly they came back to BOQ Specialist. "There was a large element of structural work involved, because the premises aren't owned by them. Because of the quality of the client and their history with us, we managed to get credit to approve the facility and allow us to proceed with the financing of this expansion for them."
Dr Smith says there are no further plans for expansion on the horizon, but one should never say never. "At the moment, I think our focus is to get our Kyneton clinic rock solid. We see ourselves as an organisation that is at heart a rural, smallish town clinic, run by GPs and our specialty is working within those small communities. So I think if we were going to expand in the future, it would be looking at those other small-medium sized towns and opportunities there going forward."
Thinking about starting or growing your practice? Click on the link to find out more about our tailored financial solutions for setting up a practice.
Ready to take the next step? Contact us to find out how we can tailor a practice finance solution for you, or call us on 1300 131 141.
Subscribe to Best Practice
Our bi-annual magazine which features case studies from our clients and gives you first hand examples of how we can help you to grow your business.